New MC Club Starting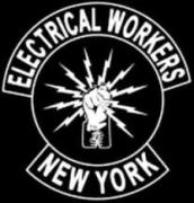 LU 503 MC

Dear Brothers and Sisters of IBEW Local 503,
As some of you may know, the International Brotherhood of Electrical Workers gets together every year for an organized motorcycle ride. Last year, four of our members attended this ride that took place in State College, Pennsylvania. There were over 400 bikes on this well organized ride with riders and passengers representing 58 different locals. There are pictures and video of this ride, called the Rattlesnake Run, on line at ibew.org. This year's ride will be in Morgantown, W. Virginia on July 19th. Some of us are already making our plans to attend. The ride will be called IBEW Ride for a Cure. 50% of the $35.00 registration fee will go to fight Breast Cancer. Local 503 will pay the registration fee for any member wishing to attend.
IBEW Local 503 is in the process of starting a local chapter of the IBEW Motorcycle Club. We have made pro-tem appointments of officers. For President, Anthony Chessari, Vice President, Tom Ludwig, and Secretary, Ken Titland. We are now accepting members in good standing who would like to join. There are a few rules that are NOT negotiable.
In order to be a member you must:
1. Be a member of Local 503 in good standing, of fine character and a licensed operator of an "American Made" – "Union Made" motorcycle in excess of 880cc's.
2. You must purchase a patch set from Local 503 that must be installed on a black leather "American Made" vest. The patch set includes the large back patch, which is pictured above, and a breast patch with our local number and city. The patch set costs $75.00.
3. Affiliating with any 1% club is forbidden. We are a Trade Union riding club.
The annual dues will be $40.00, which will be due upon joining. You do not need to be a member of the riding club to go on the Morgantown ride. If you are interested in the ride, go to ibew.org and look for IBEW Ride for a Cure or contact me. If you are interested in joining the IBEW riding club, contact me.

Ken Titland
IBEW 503 MC Secretary
(845) 597-8271
titlandk@ibew503.org



Application for MC Club
IBEW LU 503 MOTORCYCLE RIDING CLUB APPLICATION 3 Rieger Dr. Monroe, NY 10950 845-783-5007 www.ibew503.org All Prospective members shall first be proposed by a member in good standing and must attend one (1) meeting prior to membership. There shall be no prospects. If voted into Club, the 1st year's dues are due at this meeting.  Annual dues shall be $40.00.

Page Last Updated: Feb 01, 2019 (11:09:00)